In this tutorial I will show you how to make a fun 3d flower & a button out of cardstock!

Step 1: Stamp a definition stamp 3 times on
white cardstock
(close enough together that there won't be spaces in between). Another option is to use a printed paper with text or script all over it. I used
Stampin' Up!'s Define Your Life stamp set
!

Step 2: Turn the scallop circle punch upside down so you can place the text inside the scallop just where you want it to punch. I used
Stampin' Up!'s 1-3/4" scallop circle punch
! This can also work with other flower shaped punches like
this one
or
this one
.

Step 3: Repeat step 1 & 2 to have enough for 3 flowers.
Step 4: Turn the flowers over & spray lightly with water, making sure to get the whole flower sprayed. Make sure to spray on the backside of your cardstock so the ink doesn't run. I used a trial sized spray bottle that I bought at Walmart & just filled it with water.

Step 5: Using a
Bone Folder
, roll the paper around to break down the fibers & distress the edges! For those that haven't used a bone folder, this is a great tool to have. It can be used to score a card, get a very nice crease in your card when you fold it, and to distress the edges of many projects, such as this one.

Step 6: At this point you can just leave the edges turned up or crinkle the paper like I did for a more distressed look. Then adhere the 3 flowers on top of each other with
Glue Dots
!
Steps 7-11 makes the button. This is a fun technique that surprisingly looks like a real button.

Step 7: Punch four
3/4" circles
out of
black cardstock
.

Step 8: Glue all four punched circles together, layering them on top of one another. I used
Crystal Effects
, but you can use any strong adhesive that isn't going to come apart easily.

Step 9: Using a
Crop-a-dile
to punch 2 small holes (with the smaller hole punch) trying your best to get them even. Yes, my crop-a-dile is not Stampin' Up!'s, but I purchased mine at a local scrapbook store before Stampin' Up! started selling them.
Step 10: Using embroidery floss feed the thread through one hole & then through the other. Then tie a knot in the thread.

Step 11: Trim the thread so the ends won't show under the button. Or you can leave the ends a little longer than I did if you want them to show.

That's it for the button, pretty simple huh? Now you can make a button from any color of cardstock that you want!

Step 12: Make your stem by cutting a very thin strip of your choice of green
Cardstock
(I used Mellow Moss, but it is retiring & no longer available to purchase). Then tie some
Artichoke Grosgrain Ribbon
around for the leaves
.
Step 13: Stamp the background with any large design &
Versamark
ink (this is probably my favorite ink of all time) to your choice in colors of cardstock for the background (I used Almost Amethyst, which is retiring & is no longer available). I used the large background stamp from the
Baroque Motifs
set. Adhere the stem & flower to the card & then adhere the button to the center of the flower using glue dots!

Step 14: Punch along a thin piece of your color choice of
cardstock
with the
Scallop Edge Punch
(I used Barely Banana, which is retiring & already out of stock). Then adhere this piece to the inside of the card just showing the edging of the scallop.


You can add a sentiment if you'd like, or just leave it blank! I used the "Happy Birthday" stamp from the Happy Moments Sale-a-bration stamp set (which is no longer available).

If you'd like your ribbon stem to stay in a specific spot just add a mini-glue dot to the back and place it where you want it to stay.

I hope you have enjoyed this tutorial & I would love to see your creations using these techniques!
Just leave a comment with the link to your project!

I'm linking up to: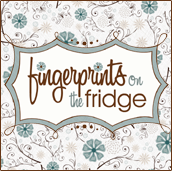 Thanks,